Plants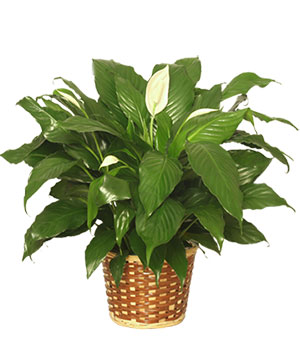 PEACE LILY PLANT
Spathiphyllum clevelandii
The Peace Lily is a popular choice in house plants, thriving in most home and office settings with very little plant care required! It is also one of the few flowering plants that blooms reliably indoors and is oftentimes seen displayed in decorative plant containers and plant stands.
Order within 4 hours 41 minutes for Same Day Delivery!
Plant Care:
You don't need a green thumb to keep your plant healthy and thriving . With just a little attention to appropriate lighting, watering, and temperature, your plant will survive for many months to come.
Improper watering is the most common reason why indoor plants wilt and die. So be sure to carefully follow the watering instructions provided for each specific plant.
Surprisingly, overwatering (rather than under-watering) is most often the culprit of poor plant health. What makes things complicated is that some signs of overwatering — wilting, yellowing, curling leaves — look exactly like the symptoms of under-watering. Once again, be sure to consult the care instructions for your specific plant.
Pick a regular day of the week to check the soil moisture of your house plants and make it part of your routine.
Tap water contains many chemical additives designed to keep humans healthy, but not necessarily plants. Serious indoor gardeners often use distilled water to help their house plants flourish to the fullest.
To keep plants shapely, give their pots a quarter turn once a week, as they will grow in the direction of the light source.
Locate all house plants away from the temperature extremes created by heating ducts, air conditioning vents or fans (including ceiling fans).
Wipe away dust from plant leaves with a damp cloth (except for hairy-leaved plants like African Violets , which should be dry-dusted using a feather duster or canned air duster).
Prune leaves or blossoms that are past their prime and do not allow dropped leaves or debris to collect on top of the soil inside the pot to decrease the chance of pests or diseases.